Thanks for stopping by to meet N. Wood.
Author Bio:
N. Wood is a budding young author living in Cornwall, United Kingdom. She first gained an interest in writing when she became a published poet at the age of nine. Since then she's moved onto both short and novel length fiction with a M/M romance baseline.
Author Links:
Blog * Goodreads * Facebook * Twitter * Amazon
Now to learn a bit more about N. Wood … it's time for the interview.
1. If I gave you an elephant where would you hide it?
I'd find the nearest zoo that had other elephants so it was somewhere safe and with its own kind and so I could visit when I wanted to.
2. If you were a cookie which would you be?
I think I'd be a peanut butter chocolate chip cookie. Everyone needs to be a little nuts from time to time otherwise the world would be too serious.
3. Do you like dogs or cats?
I like both, but I'm more of a dog person, I have two Jack Russels.
4. What was the best thing before sliced bread?
Um…un-sliced bread?
5. If you try to fail and succeed, which have you done?
both, you succeeded at failing
6. Why isn't the number 11 pronounced as onety one?
because twelve would have to be pronounced as onety two.
7. What kind of music do you like?
I like a bit of everything, but mostly rock and some goth and emo.
8. Are you a morning or night person?
I'd say both. The best time for me to write is between 11pm and 3am when the house is quiet and before I go to bed, and since that's a mix of both morning and night then I cover both
The Sound Of Silence (Unspoken Heart, #1) by N. Wood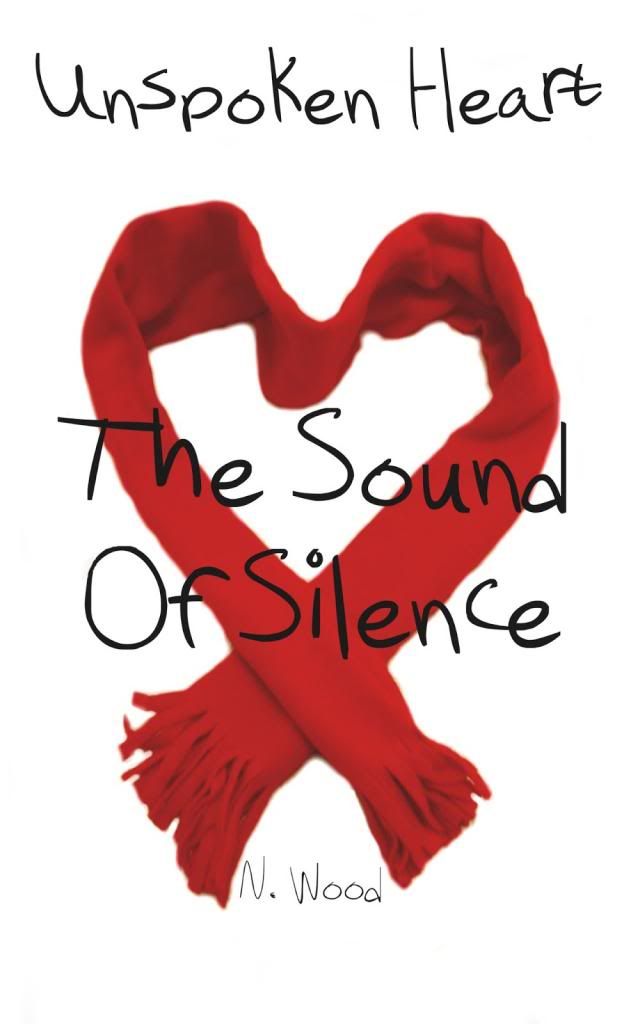 Summary:
Following an accident that rendered him mute when he was fourteen, Alex Carter relocates to the small town of Blackwood with his dad for a fresh start. Having endured ridicule and bullying for the past five years, he isn't looking forward to starting at a new college. Enter Wesley Hunter, a fellow nineteen year old who has been assigned as his guide around campus and his personal translator. Affection can be just as sweet from an unspoken heart.
Excerpt:
I winced as Luke punched my shoulder a little too hard for my liking, but it was in a friendly gesture. "Well see you tomorrow, Carter. And think about what I said. If you change your mind then just let me know, okay?"
I nodded and watched as he jogged down the hallway and out of the main exit. Before I could even turn my head to look to Wes, he was already at my side and talking.
"Change your mind about what?" he asked. "What was that all about?"
I shrugged as though it was nothing. *Luke just asked me if I wanted to join the college basketball team. You don't need to get jealous, Wes.*
He frowned at my signs and looked to my eyes. Narrowing his a little, the frown caused some cute lines to crease his forehead. If not for the seriousness of the conversation I'd have silently laughed.
"I'm not jealous. I was just asking what he meant," he corrected, but when he folded his arms it was clearly defensive.
I rolled my eyes. *Sure, that's why you have a face on you like Jo's.*
Turning before he could respond, I walked towards the exit. I counted just two seconds before his quickened footfalls followed and he fell into step beside me.
"Do not," he objected.
I grinned. *Do too.*
"Do not!" I raised an eyebrow at him and he morphed his lips into a pout then to a smile as he too realized the ridiculousness of our childish squabbling. "Well are you going to try out for the team?"
I hadn't really thought much about sport before and honestly those baskets I'd scored in class had been a complete fluke, I'd never even played basketball before. The only sport I had really gone out for was jogging and that had been recreational. When I was younger and my parents had argued over my accident and the bills, I'd used to stick in my headphones and run around the back streets of the city. I had done it to get away from their yelling and the guilt I'd held over them. The jogging and loud music had helped for a while until I'd had to go back home again. It hadn't been enough to mask the guilt forever.
We stepped out into the pouring rain and hurried over to his car. He pressed the button on his key fob and once the alarm was released and the lights flashed, we both shot inside and slammed the doors. I ran a hand through my hair, damp from the shower and the fresh drops of rain. It stirred the scent of Luke's shampoo around me and I was just glad I didn't smell of sweat anymore.
"You should really consider it. The basketball guys are pretty popular around campus," Wesley said after a moment's pause.
Turning to him as he started the engine, I smirked and raised my hand, signing my response. *And have you all jealous if other guys begin talking to me like Luke did today?*
"I wasn't jealous!" he instantly defended himself.
My grin widened. *Was too.*
"WAS…" he trailed off with a huff then shook his head with a chuckle. "Why do I get the feeling I'm never going to live that down?"
*Because you're not,* I told him simply.